Effective against all major problematic microorganisms, Halamid® the universal disinfectant, already available in various pack sizes, such as 2 kg buckets, 5 kg buckets, 25 kg drums or bags, is now available in user-friendly sachets.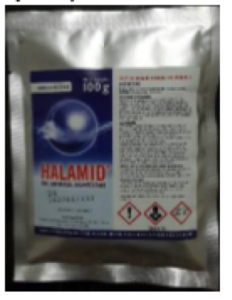 Speed, ease of use combined with cost effectiveness
The single unit dose, comprising of 100 gram Halamid® in powder form, minimises handling prior to dilution and supports correct manipulation by end-users, reducing the risk of dilution errors. A unit dose of 100 gram is also easy to carry with you and the appropriate quantity for smaller usages.   The effective dilution rate of Halamid® allows nevertheless the treatment of large areas, since one sachet produces 10 litres of ready-for-use solution at a concentration of 1%, usually good for more than 30 m2. Highly soluble, the content of one sachet is ready for immediate usage after simple dissolution in water. An additional point sometimes forgotten, but important for small retail users, is the cost per unit; Halamid® sachets have lower unit cost than the other pack sizes.
Sachets: the ideal configuration as additional pack
This new pack size completes the existing offer of packing units available in the Halamid® range. Sachets are an ideal complementary pack for various applications such as the disinfection of tools, equipment, egg washers and drinking water. They are also particularly practical for foot baths.
A premium appearance for premium quality
Their very professional aluminium appearance, attracts attention on the shelf, confirming the premium quality of the product. The 100 gram sachets are packed in 5 kg carton boxes. Each carton box comprises 50 sachets of 100 gram each. This great additional pack size is currently available upon request.
Further information on Halamid® can be obtained from halamid.com, by emailing info@axcentive.com or by calling our sales office on +33 442 694 090.