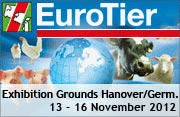 Axcentive® will be presenting its Halamid® – universal disinfectant at the well-known livestock show Eurotier. This year we partner up with our distributor Dr. Schumacher GmbH and JBS in one big stand. Several technical and commercial staff from Axcentive will be available to talk to farmers, veterinarians, distributors and other interested parties from all over Europe and beyond.
Toby Heppenstall, General Manager and responsible for sales in Central Europe explains why: "Halamid® may be a universal disinfectant but we don't have universal coverage yet! The growth in agricultural production in Central-Eastern Europe and Russia is a particular focus at the moment and I was even in Ukraine recently, visiting the largest poultry producers with our well-connected distributor there.
Eurotier is the best platform to meet people from these and many other regions. Giving support to our sales in Germany via Dr. Schumacher while meeting distributors and other actors from the CEE is the ideal combination". Axcentive are actively working on several new registrations in Europe. Arno Schut, Technical Manager adds: "We have tested Halamid® against viruses not tested before with excellent results and we can now even also offer a Halamid® Pharma grade with US FDA GMP approval which is a great testimony to the quality of our product".
See Axcentive® in Hall 13, on stand D15 at Eurotier between 13 – 16th November.