During the weekend of February 20 and 21 the Chanthaburi Shrimp Farmers' Club held their annual conference and exhibition. Halamid® was prominently present in the booth of our distributor All/Kaset Center.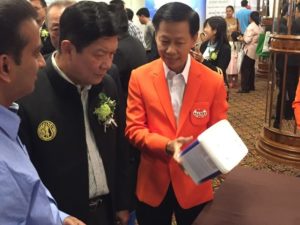 Chanthaburi district is one of the two principal shrimp farming areas in Thailand. Reason enough for the Thai minister of Agriculture to visit the exhibition and to be informed about the latest developments and products on offer. Allvet's MD, Dr. Pichai Pitaktrakulsiri (DVM) informed this highly esteemed visitor about Halamid® and the advantages it gives to shrimp health, the farmers' profit and for the environment.
Paul van Lenthe, Executive Director and present at the event: "The feedback I got from existing Halamid® users was very positive. The mild properties of Halamid® in combination with its extremely effective disinfection make it their product of choice. Nobody can make that more clear than the farmer himself! With some disease problems in Thailand overcome, 2018 is bound to be an excellent year for Halamid®".
Another strong point for Halamid® is that Axcentive and its distributor Allvet are not claiming a miracle product (like some other suppliers do). Certain situations such as a viral disease, once well established at a farm, cannot be cured by any disinfectant and require starting with a clean set up after emptying and cleaning the ponds and all that is related to it.
It was impossible for any visitor to miss the Allvet team, dressed in flashy orange jackets. The Allvet team is clearly well respected in this market and relationships with existing and new Halamid® customers may well go further than just a supplier-customer link. The atmosphere in the exhibition hall and during the evening banquet was more than relaxed and everyone was having fun.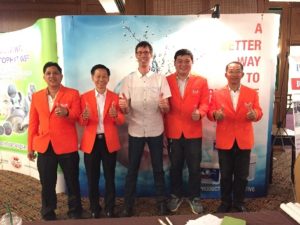 Further information can be obtained from local Halamid distributors or halamid.com