The Fair for Intensive Livestock Husbandry and Aquaculture, the VIV ASIA Bangkok is a recurring event, where all internationally oriented livestock and aquaculture players come together. Halamid® is always present at this international fair in order to meet existing and new distributors of a wide variety of countries, not necessarily limited to Asia.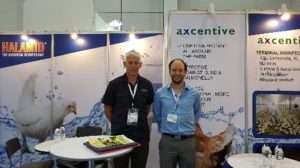 Halamid® is one of relatively few products that is being marketed in both livestock disinfection and aquaculture farming. These markets may not have a lot in common, but poultry growers and shrimp and fish farmers know the way to our stand and Arno Schut, the Technical Marketing Manager at Axcentive comments:
"Yes, it has been very busy ! Sam (Sam Ng, Axcentive Asia – red) and I have been talking with very interested people from all over these industries, who would like to solve their hygiene problems or those of their customers with Halamid®. Even if conditions of use with shrimp may be very different from a terminal disinfection in a poultry farm, the characteristics of Halamid® that make the difference remain the same: strong effectiveness and mild properties combined in one product."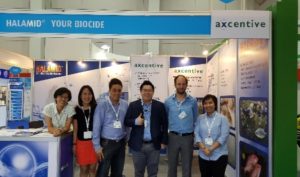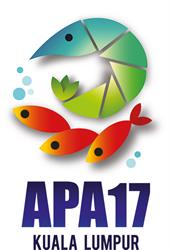 In July 2017 Halamid® was represented at the Asia Pacific Aquaculture 2017 (APA17) in Kuala Lumpur. Aquaculture in Asia is big business and consequently also for Halamid® aquaculture is a main focal point. APA17 is a show with an excellent conference attracting highly skilled people from aquaculture research and industry. Management of shrimp and fish farms, very big and small, visited the booth, telling us they had heard of Halamid®. Often they showed interest in further trials.
Further information can be obtained from local Halamid distributors or halamid.com