The increased growth of shrimp farming around the world also comes with challenges such as the Early Mortality Syndrome. For a sustainable and profitable growth of the sector, effective and safe biosecurity measures are needed. Halamid® is doing just that.
Global shrimp production is on the rise. Experts predict that in 2022, production will exceed 5 million metric tons (MT). This is a huge acceleration of growth, considering that in 2015, global shrimp production didn't even reach 3 million MT. The year-on-year growth is also confirmed by the latest Rabobank predictions, signalling a growth of 10% in 2021, continuing into 2022, putting shrimp production above pre-Covid-19 pandemic levels. But the steep rise in production also comes with challenges.
Over the years, the knowledge and understanding of major shrimp diseases and the effect of nutrition and feed additives has improved significantly. This has helped us to better cope with the challenges around diseases for example. Moreover, in the field of biosecurity, major improvements have been made in the products offered. This is not only spurred by new knowledge, but also to better protect the animal, human and environment. This has led to innovative solutions that are mild, yet very effective to keep shrimp ponds free of pathogens.
Gaining more control over EMS
Biosecurity is a key measure in the control of one of the main challenges in shrimp farming: Early Mortality Syndrome (EMS), also known as Acute Hepatopancreatic Necrosis Syndrome. This disease causes high mortalities in different regions around the world. EMS infects juveniles or post-larvae L. vannamei and P. monodon, with a 100% mortality rate within 10 to 35 days after stocking.
The disease was first detected in China in 2009. For a long time, the direct pathogen associated with EMS was unknown, until in 2013 researchers found a unique strain of a relatively common bacterium, Vibrio parahaemolyticus, that is causing EMS. This strain colonises the shrimp gastrointestinal tract and produces a toxin that causes tissue destruction and dysfunction of the shrimp digestive organ known as the hepatopancreas. Having this strain and a common Vibrio parahaemolyticus infection is making the situation worse and hence attribute to the high mortality rates.
Going for a universal approach
There is no cure yet for the unique strain found in 2013, but controlling the common Vibrio parahaemolyticus is considered a very effective way to control and manage EMS. This is where the implementation of strict biosecurity measures comes in. In shrimp farming, disinfection is done by surface disinfection after thorough cleaning and water disinfection (to keep the microbial quality of water to a certain desired level). Halamid® is a universal biocide and can be applied in both applications and works for a prolonged period of time, thereby allowing lower concentrations and giving longer protection.
Halamid® is extremely effective in killing Vibrio subspecies (spp.), including Vibrio parahaemolyticus. Tests have shown a complete killing of Vibrio spp. at 10 ppm with a treatment time of 24 hours. With the elimination of this secondary infection associated with EMS, we have a strong tool at hand to control and manage the disease. In practice, Halamid® can be applied during the whole production phase as a general prevention measure. In the case of an EMS outbreak, the product can be applied to help control the outbreak by minimising the Vibrio spp. load and keeping reasonable growth levels.
Halamid® ticks all boxes
The shrimp sector is a competitive business and subject to tightening regulations, environmental risks, sustainability demands and bacterial and viral disease outbreaks. It means that every decision you make and every measure you implement as a shrimp producer has to be  effective. This is especially true for the biosecurity measures taken. An ineffective cleaning and water treatment can lead to unnecessary disease outbreaks, directly impacting shrimp health, growth and farm profitability.
As the global shrimp sector is expected to further grow in the coming years, we need sustainable, effective and safe biosecurity measures. Halamid® ticks all these boxes. Halamid® effectively destroys bacteria and virus particles in fish tanks, raceways, ponds and cages. It is readily biodegradable and due to its mild action towards fish and shrimp, the product is safe for animals and humans and non-toxic at effective dosage. It leaves no residues in the animals and does not accumulate in riverbeds.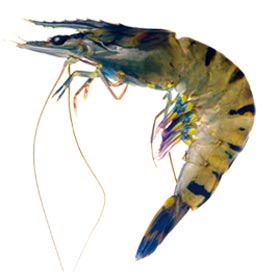 Don't let pathogens spoil the profitability of your shrimp operation. Get in touch to learn more about how Halamid® can help your business move forward.